Mister Moon Mister Moon Mister Moon Mister Moon Mister Moon Mister Moon Mister Moon Mister Moon Mister Moon Mister Moon Mister Moon Mister Moon Mister Moon Mister Moon Mister Moon
Since spring of 2016, Mister Moon has been delighting audiences across Ohio with their unique brand of beat-driven alternative rock. Syncopated drums, swirling guitar tones, lush synthesizer textures, and meaningful lyrics all come together to form a special blend of far-reaching rock that is sure to entrance music fans beyond Ohio as the bands crusade continues into 2019. Having released two EPs since the bands formation, 'Point One' in 2017 and 'Codes' in 2018, Mister Moon continues to refine and explore their sound as they gear up for a spring 2019 release alongside a slew of gigs, this time setting their sights on not only Ohio, but beyond.
​
Cory Boomer - Drums
Cory Webb - Drums, Vocals
Seth Bain - Bass, Synthesizer, Vocals
Tommy Christian - Guitar, Vocals

If you are interested in booking Mister Moon for your venue or event, contact through email at: mistermoonmakesmusic@gmail.com OR
use the contact form at the bottom.
---
---
---
"This band has talent and they've proven it with their song "CHIMES." This song would be a smash hit on any alternative radio station if it had a more nationally recognized band attached to it. All this means is that Mister Moon has the talent to be a hugely popular band; they just need the national recognition that they deserve." - Stefano Todaro, Vinyl Venue

"Overall, 'Point One' is a home-run with the bases loaded. I don't always fall in love at first listen. But, I'm a hard won listener. This beat-driven rock quartet has a new fan. The syncopated drums are to die for. The guitar is present, clear and tasteful. the keys carry the necessary moods. And the vocals hold your hand through the experience." - Alex D., the Record Store

---
Powered by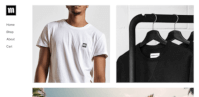 Create your own unique website with customizable templates.